Meet The Team
Melissa Ellis
Hi, I'm Melissa, the owner and operator of Rentals Only. I have been in the vacation rental business for over 26 years. My staff and I are looking forward to helping you find the perfect home away from home while visiting the beautiful state of Vermont. I live in Newfane, Vt and have a small horse farm. My horses are all Morgan Horses. They are the Vermont State Animal and are known for being very versatile. I show and compete with them, but also enjoy a nice gallop up a wooded trail or across an open field. I have two Jack Russell Terriers that are never far from my side. They love to come along while mountain biking, hiking, kayaking and snow shoeing. I love everything about Vermont and feel amazingly lucky to live in such a beautiful place!
megan Quinn
Hey, I'm Megan, the manager here at RO. I've been a member of our team since 2011. I'm a born New Jerseyan and raised Vermonter. I started skiing when I was three and have been drawn to the mountains ever since. I love living in our valley and soaking up every spectacular season we have to offer, ok maybe not mud season! As much as I love a good snowy and powder filled winter, summer is by far my favorite season. You can find me on the lake in my kayak, fishing, boating, or splashing around with my Black Lab, Fen.
Karen Gypson

I have lived in the Deerfield Valley since the mid-90s and love the peacefulness and beauty of Vermont. I've been a part of the Rentals Only team since 2014, but worked with local vacation rentals another 11 years before that. I'm not a skier- I prefer to kayak our incredible local lakes as much of the year as possible, or go for a long walk. During the winter, I'm more likely to be at home knitting while binge-watching TV. I recently realized my life-long dream- a trip to Ireland with my husband- and can't wait to go back again!
Debi Bradshaw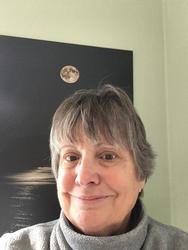 I came to Vermont in 1971 from Miami to visit my cousin and never left! I've had a few careers here in the valley. I am having the time of my life!
Staff Top Pics
Favorite Breakfast Joint: (ME) The Cup and Saucer Wilmington, VT (802) 464-5813 (MQ) The Coffee Barn Cafe Dover, VT (802) 464-2848 (KG) The Coffee Barn (DB) Dots of Dover

Its Lunchtime: (ME) Valley View Saloon (MQ) Valley View Saloon (KG) Pizzeria La Toscanella (DB) The Saloon

Favorite Dining:(ME) The Williamsville Eatery (MQ) Jezebels Eatery (KG) Madison Brewing Company (DB) Ricks

Favorite Sweet Tooth Fix:(ME) Sticky Fingers Bakery (MQ)The Creemee Stand (KG) Homemade Treats (DB) Dover Baking Co

Favorite Vegetable: (ME) Broccoli (MQ) Brussel Sprout (KG) Snow Peas (DB) Snow Peas

Food I Do Not Like: (ME)Oysters (MQ)Pickles (KG) Stewed Tomatoes (DB) Scallops

Favorite Meal: (ME)Lobster (MQ) Anything Seafood (KG) Thanksgiving Dinner (DB) Steak

Favorite Ben & Jerry's Ice Cream: (ME) Magic Brownies (MQ)Peanut Butter Cup (KG) Coconut Seven Layer Bar (DB) Cherry Garcia

Favorite Mount Snow Ski Trail: (ME) Ridge (I could ski it all day long) (MQ) One More Time (KG) Launch Pad :) (DB) Ridge!

Favorite Time Of Year: (ME)Spring (MQ) Summer (KG) Summer (DB) Winter

What Do I Do To Relax: (ME)Yoga (MQ) Bike (KG) Knitting (DB) Walk

If I Was Not Doing What I Am Doing, I Would Be: (ME) Training Horses (MQ) Rescuing Dogs (KG) Traveling (DB) Traveling

Favorite Vacation Spot on US Soil: (ME) Hatteras, OBX North Carolina (MQ) Alaska (KG) Duck, OBX, NC (DB) Dover, VT!

Favorite Vacation Spot Abroad: (ME) Venice (MQ) London (KG) Ireland (DB) Fiji

What Is The Best Concert Ever Attended: (ME)Coldplay at SPAC (MQ) Billy Joel at MSG (KG) Journey at SPAC (DB) Chicago at SPAC

Favorite TV Show: (ME) I do not have TV (MQ)Friends or Game of Thrones (KG) The Walking Dead (DB) Nashville

What Am I Watching On Netflix: (ME) Shameless (MQ) Safe (KG) The IT Crowd

Favorite Movie: (ME) Little Miss Sunshine (MQ) Ferris Bueller's Day Off (KG) Alfred Hitchcock's Rope (DB) Pretty Woman

Last Book I Read: (ME) For The Love Of Horses (MQ) Something in the Water (KG) Only the Stones Survive (DB) Walk Away

Save
Save